Acumatica for Shopify
Connect your Shopify storefront with a flexible back-office system that grows with your company.
Elevate your customers' experience, gain greater insight into your business, and drive exponential revenue with a unified commerce platform from Acumatica and Shopify.
The native Acumatica for Shopify connector allows your eCommerce website to be seamlessly integrated with your financials, inventory, operations, and reporting, providing you with a powerful and comprehensive real-time platform that grows with your company.
Key Features
| | |
| --- | --- |
| Real-time Bidirectional Data | Transmit data bidirectionally between your Shopify front-end and Acumatica back-office software as orders are placed and your financials are updated. |
| Product Information Sync | Display product information in real time, including: Title, Description, Price, Images, and Meta Data. |
| Synchronize Online and Offline Orders | Online and offline orders are automatically synchronized between your Shopify site and Acumatica. |
ABOUT ACUMATICA
Acumatica is the world's fastest growing provider of cloud ERP, with the industry's highest customer satisfaction rating trusted by companies across diverse industries. Acumatica is easy-to-use, full-featured and mobile software. With unlimited users, everyone can have a real-time view of your business anytime, anywhere.
How to set up Shopify with Acumatica.
A native integration built and managed by the engineers at Acumatica. This thorough integration will make your Shopify store an extension of your ERP allowing your team to manage back-office tasks and push to your eCommerce seamlessly.
Enable the Commerce Integration:
Enable Disable Feature: Enable the Ecommerce feature from the enable disable feature.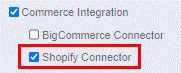 Creating an account in Shopify: Open a new account on Shopify website using the URL: https://accounts.shopify.com/store-login
Once an account is created, user needs to setup a new store in Shopify.
Once a store is created, user need to create a private app as shown in the image below.
Path: Apps>>Manage private apps>>Create new private app.
Once user will setup a new private app, Shopify will provide the API Key, Password, URL, Secret etc. These values are supposed to be entered while setting up of a new Shopify Store in Acumatica.
Give full permissions to this app, so that it can communicate with Acumatica.
Setting up Acumatica: Create a Shopify Store in Acumatica. Enter the API credentials and Test the connection. Copy the Store Admin URL, API Key, API Password, Shared Secret and Store Plan.
Preparing Data: Enable all the entities which you want to sync into Acumatica. Set all the default parameters for
Stock Items
Customers
Sales Orders and Shipping Settings
Payment Methods etc.
Once the setup is complete, prepare the data which you want to push in Shopify through the Prepare Data Screen.
Process Data: Once the data is prepared, process the same through Process Data Screen, so that all the changes will be pushed into Shopify Store.
StoreFront: Once the data is processed in Shopify, you can see the same entities in Shopify Store as well.
If interested, you can edit the themes, pages, payment methods, shipping methods directly in the store for better presentation of your ecommerce store.
Once all these things are setup, customers can sign in on Shopify and purchase items. Once a customer checkout and pays for his order, Shopify will push the Sales Order along with the Prepayment in Acumatica.
User then needs to prepare the Shipment to fulfil the order, select the relevant Ship-via and Acumatica will generate an Automatic Tracking number for the Shipment. Once a Shipment is confirmed in Acumatica, user can push these changes in Shopify Store so that user can see the Shipment details along with Tracking number. One an item is delivered; user can create an Invoice and reconcile the same with the prepayment and complete the Order to Cash Cycle.