Microsoft Dynamics
Unify your data. Generate valuable insights. Make better decisions.
Microsoft Dynamics 365 is a business intelligence tool that brings your entire business to one screen and uses the power of Artificial Intelligence to provide valuable insights.
It gives you a 360-degree view of your organization and get real-time insights that bring better results. While previously varied tools like Dynamics Soloman, Great Plains, Navision and Axapta all had to integrated with Dynamics 365 and Dynamics 365 Business separately; all of these now come together to form something as powerful as Microsoft 365.
It unifies you customer, product, people, and data. Because working without silos is working without limits.
Sales
Sell smartly with contextual AI
Build stronger relationships by empowered sales team
Optimize seamless tools to enhance sales productivity
Improve coaching and sales performance with Microsoft dynamics
Generate advanced insights to increase sales profitably
Innovate with scalable sales solutions
Customer Service
Personalized and tailored customer service
Handle routine requests intelligently
Resolve complex customer issues easily
Access all customer data from one extensive Microsoft dynamics platform
Sales
Sell smartly with contextual AI
Build stronger relationships by empowered sales team
Optimize seamless tools to enhance sales productivity
Improve coaching and sales performance with Microsoft dynamics
Generate advanced insights to increase sales profitably
Innovate with scalable sales solutions
Customer Service
Personalized and tailored customer service
Handle routine requests intelligently
Resolve complex customer issues easily
Access all customer data from one extensive Microsoft dynamics platform
Human Resources
Enable employees to get have self service HR tools
Simplify compensation, benefits, leave and absence, certifications and training, and compliance programs
Expandable HR system that can be connected to your existing system
Centralize your workforce data with Microsoft dynamics 365 human resource module
Field Service
Detect, predict, and resolve field service issues beforehand
Deliver on-site customer experiences
Provide right time, tools and information to technicians
Human Resources
Enable employees to get have self service HR tools
Simplify compensation, benefits, leave and absence, certifications and training, and compliance programs
Expandable HR system that can be connected to your existing system
Centralize your workforce data with Microsoft dynamics 365 human resource module
Field Service
Detect, predict, and resolve field service issues beforehand
Deliver on-site customer experiences
Provide right time, tools and information to technicians
Finance
Optimize AI for unified global financial reporting, predictive insights and embedded analytics
Unify all your financial process tools into one
Enable easy financial planning, process automation, and budget control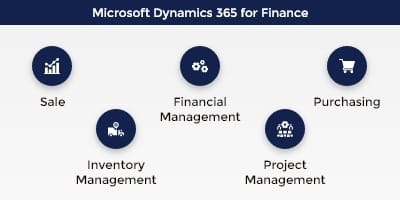 Supply Chain Management
Reduce downtime using IoT and mixed reality for manufacturing processes
Modernize inventory management
Accelerate inbound and outbound processes
Identify potential machine issues before they occur
Extend the life and performance of your equipment
Get real time tracking with Microsoft dynamics supply chain module
Finance
Optimize AI for unified global financial reporting, predictive insights and embedded analytics
Unify all your financial process tools into one
Enable easy financial planning, process automation, and budget control
Supply Chain Management
Reduce downtime using IoT and mixed reality for manufacturing processes
Modernize inventory management
Accelerate inbound and outbound processes
Identify potential machine issues before they occur
Extend the life and performance of your equipment
Get real time tracking with Microsoft dynamics supply chain module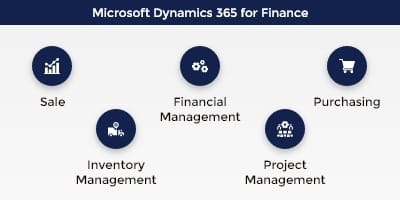 Commerce
Scalable end-to-end e-commerce solution that adhered to global compliance and security standards
Optimized back-office operations through ingrained and pervasive AI and machine learning
Engage customers across online and offline channels
Use intelligent tools to strengthen your customer relationships
Project Service Automation
Anticipate resource demand and optimally utilize resources
Forecast project successes and plan better
Empower your service professionals with collaborative and intuitive tools
Connect this platform with other apps you are currently using
Commerce
Scalable end-to-end e-commerce solution that adhered to global compliance and security standards
Optimized back-office operations through ingrained and pervasive AI and machine learning
Engage customers across online and offline channels
Use intelligent tools to strengthen your customer relationships
Project Service Automation
Anticipate resource demand and optimally utilize resources
Forecast project successes and plan better
Empower your service professionals with collaborative and intuitive tools
Connect this platform with other apps you are currently using
Marketing
Automate your marketing activities and get better view of lead generation
Utilize AI-driven insights, custom dashboards, and lead scoring Artificial Intelligence
Built-in privacy features that comply with GDPR regulations and accessibility guidelines
Mixed Reality
Allow employees to work with other remote employees easily with virtual product visualization
Enable them to share their real world and get step-by-step guide on issue-resolution in real-time
Optimize mixed reality tools to enable them to see future product functionality
Marketing
Automate your marketing activities and get better view of lead generation
Utilize AI-driven insights, custom dashboards, and lead scoring Artificial Intelligence
Built-in privacy features that comply with GDPR regulations and accessibility guidelines
Mixed Reality
Allow employees to work with other remote employees easily with virtual product visualization
Enable them to share their real world and get step-by-step guide on issue-resolution in real-time
Optimize mixed reality tools to enable them to see future product functionality
Business Central
Map out financial performance in real time and improve forecast accuracy
Get end-to-end view of manufacturing, operations, purchasing, inventory, and warehouse management
Accelerate service with a connected view of service operations and customers
Monitor and measure your projects with real-time metrics on profitability, resources, tasks, and progress