What is RPA?
Robotic Process Automation
RPA mimics and automates business processes and tasks exactly as if they are being carried out by humans. It simulates human work of logging into applications, entering tonnes of data, sending emails and doing other repetitive tasks.
RPA mimics human work to:
Conduct complex business processes
Interpret existing applications
Activate responses for better customer experience
Control and measure data in real-time
Communicate with other digital systems
What sets RPA apart from other automation tools?
Unlike other IT solutions, RPA is absolutely non-invasive. It leverages your current infrastructure without any intervention or disruption to the underlying systems.
While saving costs, it is also much faster to set-up as compared to other software solutions.
Highly scalable and adaptable
Zero disruption of underlying systems
Minimal upfront investment
Quick ROI
Can we integrate your ERP with RPA?
While ERP systems are there to automate your processes, the power of RPA can tremendously boost those systems and fasten the processes manifold. Since RPA is platform agnostic and it operates at the user interface level, it can do anything that a trained software user can do.
If you look at the symbiosis of NetSuite and RPA from a larger 'process automation' lens, you can say that robotization will be managing your end-to-end digital value chain and conducting all repetitive tasks.
RPA can fill gaps of ERP systems and usher in another level of resource planning known as automated resource planning.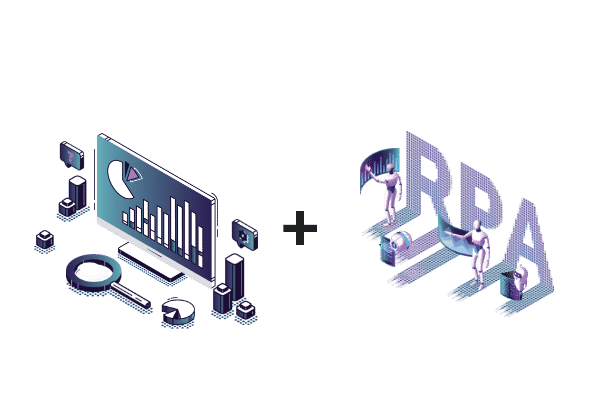 So what are the benefits of Robotic Process automation?
Increase accuracy of repetitive human activities
Reduce risk with improved compliance
Execute routine transactions faster
Reduce costs significantly
Increase productivity of employees
Make intelligent data-driven decisions
How does RPA work?
RPA bots can mimic almost any human actions. Here are some things RPA bots can do for you:
Log in to your system
Connect system APIs
Copy and paste data
Move files and folders
Extract and process structured and semi-structured content from PDFs, emails, forms, and documents
Read and write to databases
Open emails and attachments
Scrape data from the web
Make calculations
How can Bista help?
We have partnered with leading RPA providers to implement and integrate this powerful technology with your current systems. These tools are pre-integrated software that enables you to design, build and run intelligent applications, digital workforce, and automation services. Moreso, you can do this on any cloud platform, with minimum coding experience.
UiPath
Microsoft Power Automate
Microsoft Dynamics
Which tasks qualify for RPA?
High-volume
Business rules-based
Repeatable processes
Demo RPA Video
Are your employees conducting repetitive tasks?
Are you looking ways to increase their efficiency and save their time?
Watch More Videos