All You Need To Know About NetSuite CRM Software
NetSuite's Customer Relationship Management (CRM) software is the only cloud solution that delivers a 360-degree real-time view of your existing or potential customers. From lead all the way through opportunity, sales order, fulfillment, renewal, upsell, cross-sell and support, NetSuite CRM provides a seamless flow of information across the entire customer lifecycle.
Using Online Customer Forms to records contact details
Online customer forms are used to receive information and details of your customers, leads, and contacts from your website. Netsuite CRM allows you to customize the appearance of this form and the information you require from anyone who submitting this form.
Prospects:
You can search the contact using the global search feature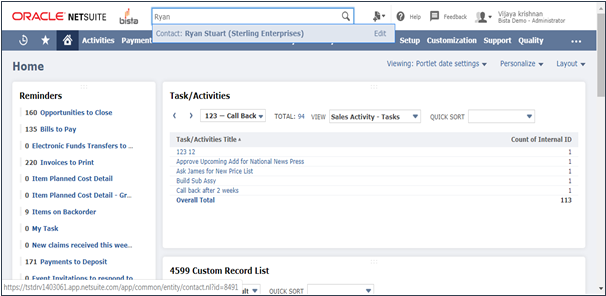 The lead details captured in the online form is populated under as status qualified which is further processed for opportunity
Leads:
Leads are companies or individuals who represent potential customers. In NetSuite CRM, leads are the first step in the sales cycle that progresses to prospect and then to customer.
Conversion by Status Change and Sales Transactions:
Under Netsuite's CRM module, leads are converted to prospects and then to customers. When a lead record is created, it is assigned to a sales representative or team. Once the sales representative contacts the lead, the lead record is converted to a prospect record. The data on the lead record is maintained as it moves up through the sales cycle from lead to prospect to customer allowing transparency of sales across the organization.
Conversion with the Lead Conversion Feature:
In this workflow, the lead is the potential customer that you want to sell your product or services to. The lead record tracks information on the company you want to sell to as well as the individual contact you are speaking with. Once the salesperson has spoken to the potential lead, leads are then converted by clicking the convert button on the lead record. As a business leader, this allows you to view all sales developments at one screen and then make business decisions accordingly.
Convert button on lead

Assigning Leads:
NetSuite CRM allows you to set up rules and territories that automatically assign leads to the proper sales representatives. If your sales organization uses a team of inside sales reps for lead qualification, your inside reps can send converted leads through your sales territories by choosing 'Reassign Using Territories' in the sales rep field. This reduces the chance of the inside rep selecting the wrong sales rep.
Prospect records enable you to track all the information you need to convert a prospect into a customer. Change the Status field to the required type of customer and save the record. Prospects are automatically converted to customers when a posting transaction is raised against the record.
Customer records enable you to track all the following types of information on your customers in one place, depending on the features you have enabled:
Contacts
Events, tasks, and calls
Messages
Opportunities
Transaction history
Items purchased
Cases
File cabinet documents
Campaigns
Projects and sub customers
Campaigns
Last Sales Activity
Profile information

Customer Dashboards:
You can view real-time dashboards for each of your customers, these show KPIs, trend graphs, report snapshots and reports pertaining to each customer. To view a customer dashboard, open the customers list. Point to the left of the customer's name, and click the View Dashboard icon that appears. 

Opportunity:
An opportunity in NetSuite CRM is used to record all the details of a particular deal you are working on with either a prospect or customer. In its simplest form, it is used to record the items/services your prospect or customer is interested in purchasing from you, along with the expected order value and the date when the deal is likely to close.
Sales reps can use opportunities to record the build-up to a deal: related tasks, events, files, notes, and messages from the customer can all be attached to the record and provide a complete view of the deal as it evolves. With Netsuite CRM one of the key offerings is that competing companies can also be tracked, as well as being able to provide reasons why you won or lost the deal.
Some businesses provide customers with a quotation or estimate before the order is accepted. Customers typically review the estimate and perhaps ask for changes. In NetSuite CRM, you can create an estimate and print, email, or fax it to your customer. Then when your customer accepts it, make any necessary changes and convert it to a sales order, invoice, or cash sale.
Enabling the 'estimates' feature also adds a 'renew' button on invoices for roles who have a create estimate permission. Clicking the renew button converts the selected invoice into a pre-filled, editable, estimate. This is particularly useful when issuing new estimates for often repeated items. 

Cases:
Cases track issues your customers report and the responses your support representatives give.
When your customers report problems, ask questions or otherwise, need to communicate with you cases are created.
Create cases in four ways:
A support rep creates a case record in NetSuite CRM for customer who calls in.
A customer completes an online case form.
An email sent by customer to your support address
A customer clicks the Contact Support link in the Customer Center or your Web site and fills out an external case record.

Marketing Campaigns
NetSuite Campaign Management allows you to create and track highly targeted marketing campaigns based on demographics, purchase trends, response patterns, and support histories. With NetSuite, you can continually fine-tune your campaigns and maximize ROI with the ability to track results in real-time.
NetSuite CRM:
It helps to analyze campaign statistics and ROI from the start of the marketing campaign to the final order transaction and also helps in lead generation

Create a target static group & send campaign emails to those groups.

Merging Marketing Campaign template with target group
Statistics and lead generation through Marketing Campaign:
Marketing Reports: Campaign ROI Analysis
If you need any assistance or customization for your NetSuite you can schedule a demo with us using this Contact Form or emailing us at sales@bistasolutions.com