How a NetSuite ERP implementation can help you be prepared as the economy reopens
As the economy begins to reopen, every business is will be required to reassess its situation across different factors. One of the key components of conducting a comprehensive situation analysis of your businesses is to conduct checks across your business verticals. As this happens, metrics are going to be the key markers to not only measure your current state but also, help you make decisions on what to do next. A NetSuite ERP implementation would be the ultimate solution to conducting this business post-mortem.
So, let us have a look at the checklist that business leaders need to create so they can take action and move their organizations forward.
Business Model – Evaluate what is working and what isn't!
With NetSuite ERP implementation you can, assess your sales channels, and, if possible, shift resources to best-performing segments.
If customer segments, business models and product or service offering success have narrowed, it's time to reorient your workforce around them — that could mean all-hands-on-deck for sales, marketing, engineering, supply chain and other business processes.
Talk to you customers and prospects. Get feedback on what you can do for them right now.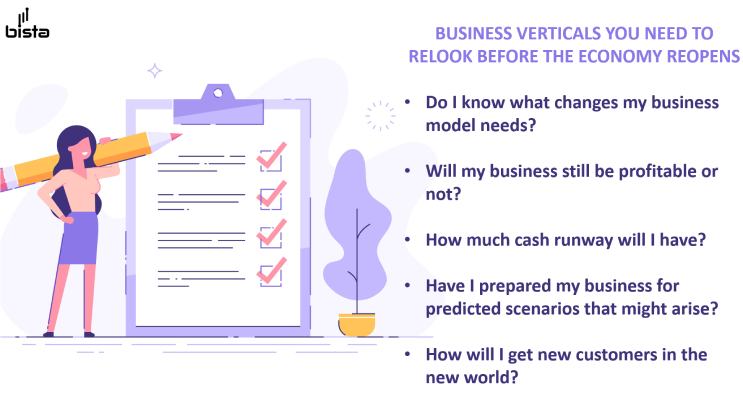 Financial Check – Is your business profitable or not, and how much cash runway do you have?
Review all cash flow projections and working capital needs. This entire process can be made seamless with a timely NetSuite ERP implementation.
Continue to act around expediting receivables, with an eye toward changing net payment terms, creating incentives for early payment, providing varied payment options and asking for deposits on custom orders.
Take a hard look at how workforce actions (furloughs and cutbacks) have impacted your ability to drive revenue, and tweak accordingly.
Scenario Planning – Take a diligent look at all health, safety and legal issues that arise from coming back to work, opening up for customers and engaging with your suppliers and partners.
Craft a facilities plan for your warehouse, plant and offices that includes an assessment of how closely teams work together, cleaning and hygiene supplies and cleaning services. Consider whether your environment dictates providing protective equipment such as masks and personal protective equipment (PPE).
Create health safety policies and guidance for employees and customers, including posting signs and developing communications about physical interactions and hygiene.
Ensure you've communicated explicitly about how employees should report to human resources if they become sick or start experiencing any symptoms. A timely NetSuite ERP implementation will help you connect with your entire organization with just the click of a button.
Determine policies around paid-sick leave and parental leave.
Stay up-to-date on Centers for Disease Control and Prevention (CDC), Occupational Safety and Health Administration (OSHA) and state guidelines.
Health, safety or legal – Build out a handful of scenarios that are based in reality and assume a wide range of outcomes.
Review all sales forecasts and build in realistic assumptions that assume ongoing lockdowns, a gradual reopening, and a moderate recovery.
Review all hiring plans, salary raises, bonuses, commission payments and other employee related planned expense growth.
Examine working capital, payable, receivable and all cash flow related assumptions, something that can be done easily with a NetSuite ERP implementation.
Customer Retention & Acquisition – It is paramount that every organization focus on retaining and servicing new customers, whether you are selling a product or a service.
Focus efforts on industries or segments that are essential or least impacted. Pare back your efforts in areas where the prospect is unable to buy. Much of that data is publicly available.
Reassess how you go to market. Make sure to focus on your value as a partner and how you are caring for your employees, customers, and community. Demonstrate how you can help.
Reassess your pre-COVID marketing and sales messages, emails, cold-call scripts, and any external branding.
We recognize that every organization is asking itself a common set of questions. Having a checklist ensures that you don't overlook some of the critical actions that will be required as your business responds to a reopened economy. More so, having the right software to answer your questions can be your trump card in times like these.
We at Bista, have implemented NetSuite ERP for various businesses across the United States and Canada. And in times like these, we are offering a free business analysis where we can brainstorm on the best practices for your automation needs. Reach out to us and we'll be there to help you.