NetSuite Integration With Tableau
Introduction
NetSuite provides the market's leading integrated, online business application for CRM, ERP, and Web commerce.
Tableau allows users to create stunning visualizations and reports of their data to share with their clients.
In the era of dramatic data formation, visualization and analytics-driven views of live business data are emerging as the basic necessity of any ERP or CRM system.
Bista Solutions has come up with a new integration with Tableau Software that removes the dependency from importing and exporting data from one system to another and more than this, it allows customers to combine Tableau's visual analytics tools with NetSuite system for real time data insights. This integration opens new doors for joint customers to understand and act on NetSuite data in real-time using best-in-class analytics. Once systems have been mutually integrated, users are good to go with their business processes as they don't need to switch applications every now and then between systems to refer data to work with.
This integration enables intuitive business intelligence tools to enhance data discovery and understanding for all types of companies and business users.
With the ease of drag & drop feature, a user can quickly access and analyses important data, create advanced reports & visualizations and share critical views to the clients. It saves a lot of time increasing company's productivity and quality which is need of the hour.
With this integration, you'll always be working with the most complete and up-to-date data to power your Business data visualization, integrity, and analytics.
Significant advantages are listed below:
Visual analytics:
Visualizations are a wonderful way to highlight the data that's important.
It's easier to jump amongst numbers of already available visualizations i.e. pie chart, histogram, scatter, ring chart etc. It is enough flexible too.
It has always had a strong focus on visuals and connects to many different data sources and can visualize larger data sets.
Data discovery:
Many organizations rely on up-to-date data to make critical decisions. It can work with static and live data from multiple sources. Such integration solution empowers you to explore the exact information you need whenever you want.
Finding key insights in data helps organizations remain competitive within their markets.
Business analysis without any interruption:
By such integration, users can avail the major benefits of ERP, CRM, and eCommerce data to know key performance indicators and gain overview into unified business execution.
Dashboards Overview:
Interactive dashboards/portlets can dynamically filter data or run any kind of gathering analysis deeply.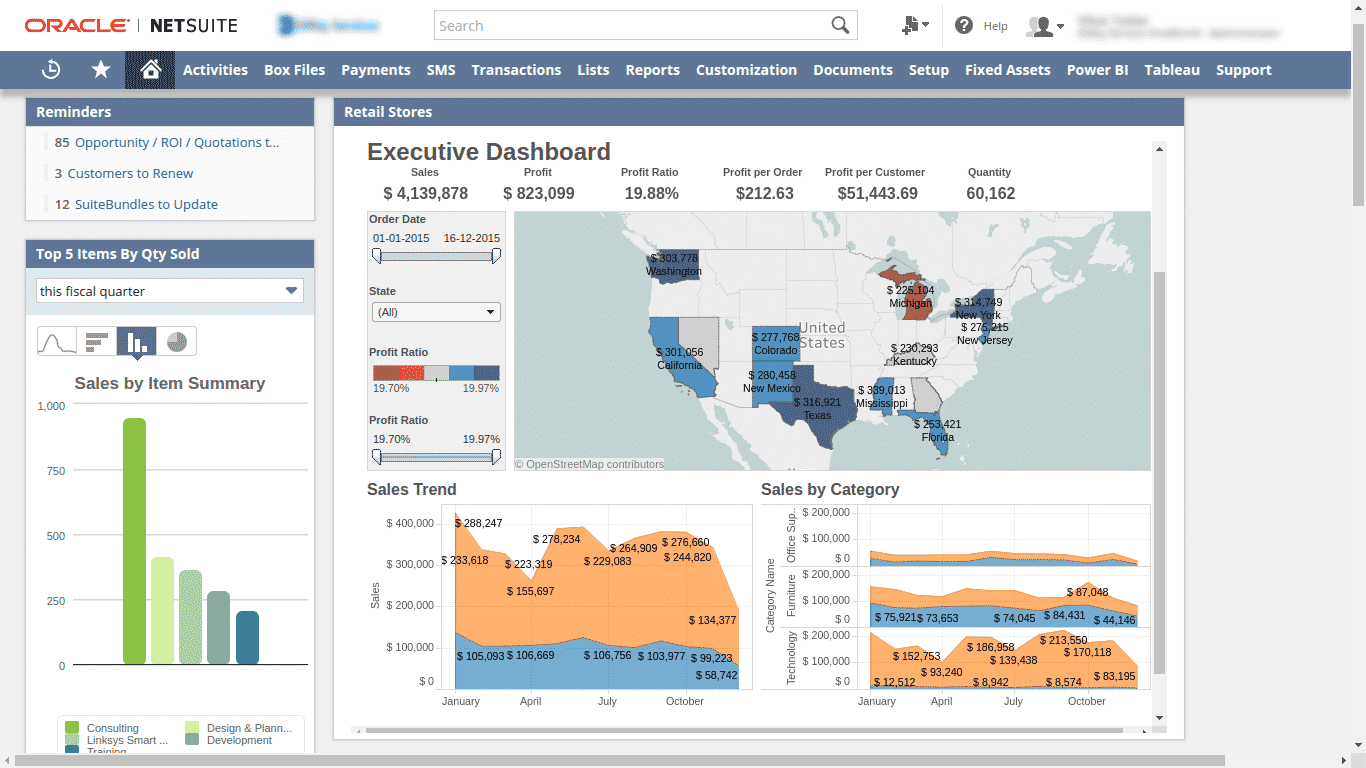 Interactive Mapping:
Beautiful, interactive worldwide maps provide location wise views regarding business capabilities and performance.
It enables you to identify your client's requirements before they need it.
Likewise, it has so many features to make your analysis faster, easier, and even more delightful.
As popularity for such integrations is increasing worldwide, there are certain companies implementing it and we are one of it delivering effectively, with the best quality and on time.
If you have questions about NetSuite Integration with Tableau for your business, you can try out a Demo for it with Bista Solutions. You can email us at sales@bistasolutions.com and for any feedback or concern, you can write back to us on feedback@bistasolutions.com