Bista Solutions Implements OnSIP Integration for Odoo 11
Bista Solutions has implemented an OnSIP integration with Odoo 11 to help a company with its customer support center. OnSIP provides VoIP phone systems to businesses, giving them the ability to make calls, have extensions, and run other business features. The integration with Odoo connects the company's contact/customer data with their phone system, creating additional efficiencies.
VoIP Integration Benefits:
Connecting Odoo with OnSIP has many benefits, which we list below:
1) Automatic Customer Information for Inbound Calls
If a company is running a customer support center and receiving calls, it's helpful if the representative is able to pull up the caller's information. The representative wants to know the individual's history, what products they have bought, and other relevant data. In order to do this, the representative typically has to ask the customer's name, input that name on the system, pull up the record, and then take a look at it.
Alternatively, if the company doesn't have a digital system, the representative may have to look through stacks of papers or files to find the information. In either case, this can be tedious and time-consuming, reducing the efficiency of the workplace. This is also relevant for the sales team, who want to see information/previous history when a customer or opportunity calls in.
With the OnSIP Odoo integration, when a customer calls, their information automatically pops up on Odoo. This adds value for the representative/salesperson and makes their jobs much easier.
2) Queuing for Inbound Calls
If you have a large number of calls coming in to your sales or customer support team, some of your members may be busy at any time. With OnSIP, you can automatically send incoming calls to the next available representative, so that the maximum number of calls can be answered.
3) Outbound Calls Directly from Contact Database
A third benefit of the OnSIP integration is that the sales team can make calls directly from Odoo.
For example, let's say a salesperson is browsing a customer's information, or has set an alert to follow up with someone. The salesperson can make the call directly from that customer's contact screen (see the screenshots further below). This is particularly useful if sales is making a large number of calls, e.g. cold-calling leads and wanting to quickly dial the next lead.
4) Record Keeping
Finally, the system can record call information like time, duration, and the contact/salesperson involved in the call. This is valuable for managers, who may want to keep track of the work their salespeople are doing, or for the salespeople themselves, to know what contact has previously been had with a customer.
Screenshots:
Outgoing call from Odoo
Option 1: Using the Phone Icon.
Step 1: Click the Phone Icon on the top right corner of the Odoo screen.
Step 2B: Alternatively, press the keypad button on the bottom left, type in your number, and press the green call button.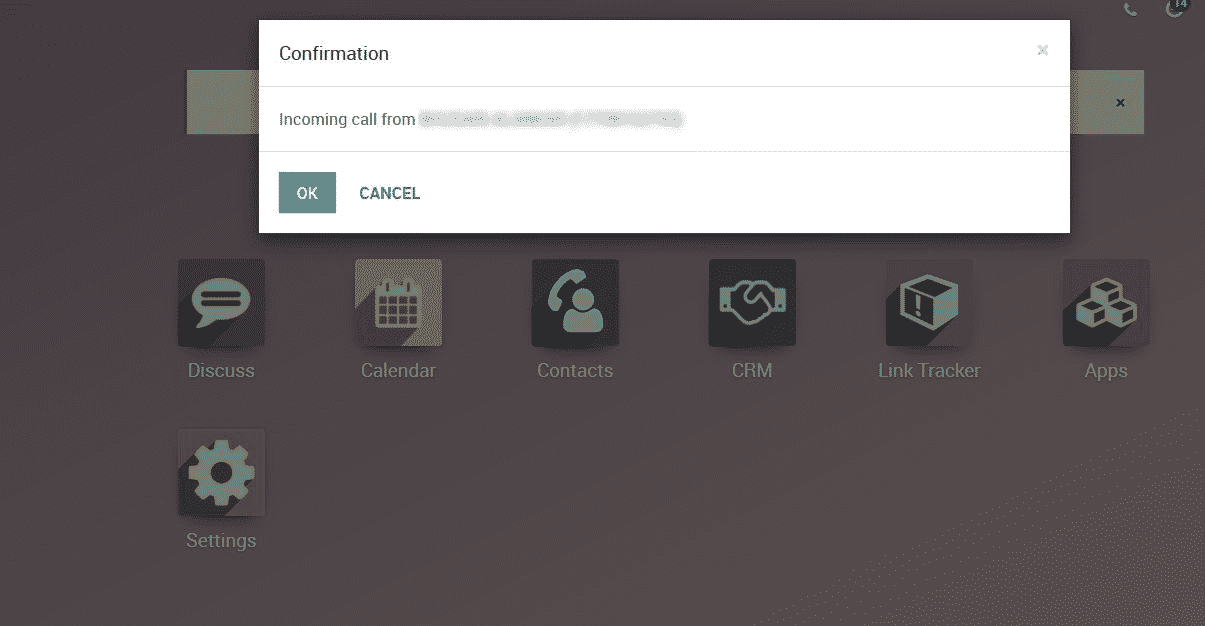 What Can This be Used With?
Companies have three options for using this integration. As demonstrated above, they can use their computers to make calls through the Odoo platform ('softphones'). Secondly, they can use OnSIP-connected VoIP hardphones. And finally, they can use their cellphones with the proper software installed.
Get in Touch with Bista
If you'd like to implement this integration for your own company, get in touch. Bista Solutions is an Odoo Gold Partner and can go beyond the out-of-the-box implementation and customize the integration for you if you have additional needs. Send us a message using our contact form or call us at +1 (404) 631-6219.