How to choose Right CRM for your business.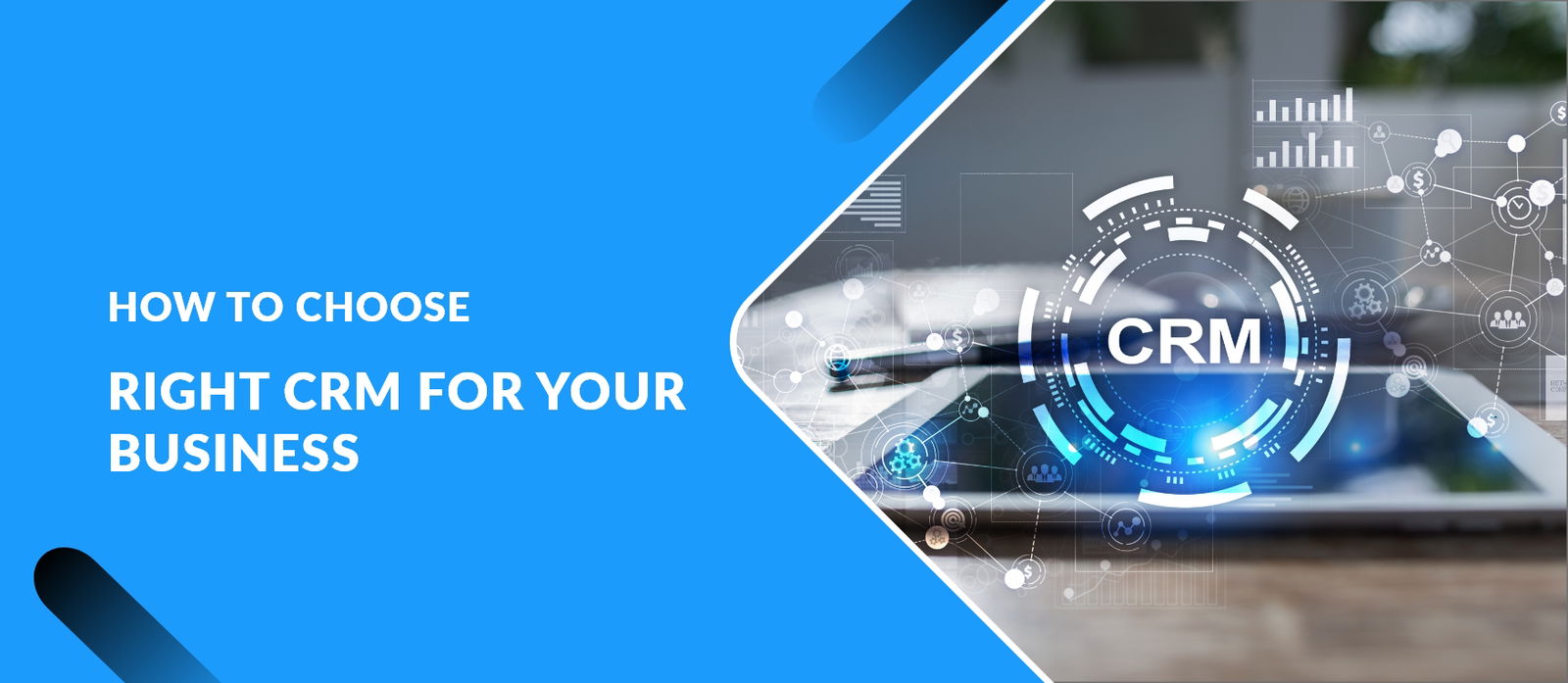 CRM- Customer Relationship Management
 Customers are the lifeblood of any company. Customer Relationship Management (CRM) is a system for managing all of your company's customers and potential customer relationships and interactions. It's a system that aids in contact management, sales management, productivity, and more.
Why Do Businesses Need a CRM solution?
It will assist your firm in developing a genuine link with existing consumers, reducing the need for the company to go the extra mile to re-engage them as if they were new clients.
It expands the network and consumer base, as well as the likelihood of making multiple transactions.
It establishes a brand image, and customers begin to feel loyal to the brand.
You can build long-term relationships with customers, making them feel responsible to spread the word about your business.
It will support you in keeping everyone on the same page and streamlining all information by combining CRM with your company's other systems like ERP.
Important features to look for in a CRM solution
It is essential for the company to select the best CRM solution. A lack of sufficient product insights, undefined goals, and a lack of acceptability and user training can all lead to failure and waste of money. Here is a list of some of the most significant elements to think about when selecting a CRM solution for your company.
Mobility-

It's essential to select a CRM solution that focuses on providing users with a unified experience from their preferred device, ensuring that they have access to the information and tools they require at all times.

Contact Management –

One of the main features of CRM is contact management quality, which tracks leads as they go through the sales pipeline. It keeps track of client profiles, relationships, and previous communications.

Quotes and Order Management-

The salespeople give the prospects a quotation that comprises information and a price. CRM can help you automate and streamline this process while also enhancing order processing capability, sales visibility, and client relationships.

Sales Process Automation-

Sales automation is essential to enhance sales efficiency. Sales teams can spend more time on value-added activities by easily automating time-consuming manual operations. 

Account Management-

Contact management where keeps track of the people you interact with; the account management aids in the recording of data of the companies you engage with. It keeps track of information and maintains relationships with businesses.

AI-driven-

As processes get more complex and the amount of client data grows, the value of AI in CRM solutions becomes increasingly apparent. AI integration could benefit companies in improving CRM procedures and reducing human intervention.

Customer Segmentation-

CRM collects and analyses client data from multiple sources. It splits customers into groups that have similar qualities and aids in proper customer segmentation, which in turn aids in proper marketing campaign execution.

Third-party Integration-

CRM integration with a third party is a crucial step in linking your CRM software with second and third-party apps so that data can flow seamlessly from one system to another.

Reporting-

Data is meaningless unless it can be mined and analyzed in a way that a business can use it. CRM's reports feature allows you to distill a significant amount of data for business-critical insights.

 
How does CRM benefit your business?
   

Simplify the sales process.

   

Automation of Workflow

   

Developing Customer Relationships.

   

Easy Information flows across departments.

   

Lead Predictive Scoring

   

Increased Productivity and efficiency.

   

More Accurate Sales Forecasting.

   

Higher Lead conversion.

   

Generate Customer Insight.
We understand how CRM has grown over the years. Reap the benefits of CRM solutions with our expertise.
 The CRM market is rapidly evolving due to shifting client demands. CRM has progressed well beyond simply being a tool for maintaining customer interactions in recent years.Failure to recognize these patterns may result in a loss of competitive advantage as well as the inefficient performance of your business.
 We want you to manage the customer relationship easily, connect across all devices and departments, and maximize sales and profits. Improve your workflow by offering your employees a robust CRM that allows them to finish sales faster. We can assist you in determining, building, or upgrading the ideal CRM solution. We hope that your final takeaway is to speak with one of our expert team members and make a decision that will benefit your firm for the rest of life. Connect With Us Now.