The Business Benefits of Odoo 12
In his keynote speech at Odoo Experience this year, Odoo CEO & Founder Fabien Pinckaers finally unveiled Odoo 12. And while we've discussed some of the new features before, in this post, we'll discuss the benefits for businesses as we go over the highlights of his speech.
Highlights:
New Document Management module – easily store and send documents to sign within Odoo, without email hassle
Accounting – integrate with bank account and update bank statements with click of a button
Marketing & Sales – generate qualified leads based on website visitors' IP addresses
E-commerce – manage multiple websites straight from Odoo, with payment buttons, ERP connection, etc. all included
IoT – connect and manage IoT devices and configure with processes
Miscellaneous
Keep on reading for fuller explanations of these amazing Odoo 12 benefits, as well as screenshots. You can also find the video presentation of Pinckaers down at the bottom. Finally, if you're interested in implementing Odoo 12, don't hesitate to give us a call.
Let's dive in:
Document Management:
As we mentioned last time, one of the new modules in Odoo 12 is the Document Management module. It was released and removed back in Version 8, and is now coming back stronger than ever.
The new module allows businesses to easily share files within their company. Whether this be internal videos for the company or other documents, this eases communication greatly.
For example, if an employee needs to get a quotation signed by a manager, the quotation can be generated within Odoo, sent to the manager within Odoo, signed by the manager within Odoo, and sent back to the employee with Odoo. The employee can then easily print and email the document to the customer. This saves huge amounts of hassle and makes the business process that much more efficient.
● Document management system:
– You can organize your documents in a manner as per your business processes.
● Paperless administrative tasks using sign and DMS.
– Easily share the documents with different users.
– Easily apply signature and archive documents.
– You can design the document, add the relevant information and sign the document so it reduces the time of paperwork.
● Request for document from the activity window so anytime anywhere user can ask for missing documents.
– Ability to ask for a specific document from any screen.
– Ability to define the destination folder of the requested document from the request itself.
● AI technology in document processing:
– OCR for importing invoices for different formats.
– Have an option to select the field from that document to clarify which value is for which field.
Accounting:
Perhaps the most significant upgrade to an existing module comes to the Accounting system. Odoo 12 benefits companies by making it easier to synchronize with bank accounts and update bank statements. Odoo now integrates with 5,000 banks, so that it is very likely your business will be assisted.
● Integration with 5000 banks :
– Synchronize your bank account with your system in one click.
– Update your bank statements automatically
Odoo 12 also comes automatically with tax localization, etc. for businesses in 12 countries. This reduces businesses' reliance on customization for localization features, though of course, Odoo's great adaptability allows it to be modified even in such situations where the localization is not already present.
● Localization with Odoo 12 in following countries
○ EU Countries
○ France
○ Belgium
○ Germany
○ Spain
○ India
○ Netherlands
○ Mexico
○ Switzerland
○ United States
○ Canada
○ China
○ Singapore
○ Colombia.
Marketing & Sales:
The marketing and sales modules in Odoo have been powerful for a long time, but Odoo 12 pushes it above and beyond anything we've seen before: it now allows you to generate leads using the IP addresses of your website visitors.
As Pinckaers states, "You know what is the number one problem of any sales department? Leads. Every salesperson I know, they tell you 'I want more leads. I want qualified leads. These are not qualified enough.' We always want more leads, because the leads are at the source of your growth in time."
As such, this huge Odoo 12 benefit allows your company to find leads from one of the best places to find them: the visitors on your website.
You can set rules such as industry of business, the company role of the contact you are looking for, and so forth. Based on these rules, the system will identify the IP addresses of your website visitors, match them to the companies they are from, and find contacts from those companies based on that info.
● Lead generation rules depending on your website visitors' IP.
– All your website visitors' data will be captured and create new leads.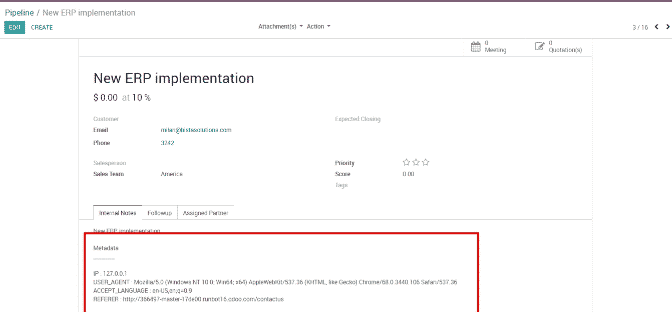 – You have ability to categorize your leads before generation.
● Customer creation in Odoo will pull out all the information about the company like total employee, Estimated Annual revenue etc.
– Odoo 12 turns data into information, and information into insights!
– Odoo will automatically provide all available details about the new contacts you have recently created.
● Product configurator in the sales quotations.
– In sales order, user has ability to define more details about the product.
● Boost your sales by advanced dashboard
– Advanced dashboard gives a better analysis which enables you to make better decisions.
E-Commerce:
The new ability to manage multiple websites on Odoo 12 benefits many businesses, but is especially useful for eCommerce. eCommerce companies can manage multiple websites from Odoo, and also have proper payment integration, shipping integration, and connectivity with the rest of their ERP system for each and every website.
● Multi website is available now with Odoo 12.
● Website new features:
– New building blocks to design beautiful web pages.
– Crop image tool while design a webpage.
● Dashboard design like Google Analytics UX
● Advanced dashboard for every application
● Many new shipping connectors have been added.
● Shipping connectors print labels, contact the carrier, and sends tracking link to the customer.
Internet of Things:
The internet of things is at the forefront of technology growth in the world. Odoo 12 now allows connectivity and management of IoT devices. This is a very exciting step forward.
● Connecting Software with Machines & Workers is a huge challenge but Odoo now has IoT with Version 12.
○ IoT devices connected with manufacturing process to boost them.
○ In manufacturing steps, you can define machine to each step and user can use the machines at that specific time in combination with Odoo
Learn more about the Odoo 12 IoT module here.
Miscellaneous:
● Move kanban column with swipe in mobile app.
● Improve search facility in mobile app.
● Easily navigate to other leads using keyboard only.
● Send reminder in one click from the kanban view of opportunities.
● Digest emails management
– Automate reports via email

Faster Barcode scanner.
○ Improved barcode scanner using scan the location barcode and proceed the delivery.
○ You can scan the barcode while you are offline.
● User + odoo studio = Developer Power
● Odoo studio report designer.
○ Now user can build new report from scratch as per their design and required information.
○ User can also edit the existing report so they can easily do modification in the reports.
● Odoo.sh has been improved.
○ New app can be directly installed in odoo.sh from Odoo app store.
○ You can easily connect with the user in odoo.sh to login into the system.
○ Built in Editor in odoo.sh for developers.
We hope this has been informative for you! If you're interested in implementing Odoo 12, get in touch! You can reach us using our contact form here. Bista Solutions is an Odoo Gold Partner, and has implemented Odoo for hundreds of businesses over the past decade. We would love to assist you with your unique business needs.
Watch Fabien Pinckaer's full speech below:
00:00 Video start
03:57 Fabien Pinckaers, Odoo Founder & CEO, begins keynote speech
04:37 Document Management
15:06 Accounting
21:45 Lead Generation
25:54 Contacts
27:23 Quotations
30:58 Mobile Experience
31:34 Desktop Experience
33:14 Activities and Reminders
36:31 Website
39:35 Reports and Dashboards
44:32 Barcode scanner
48:27 Shipping connectors
49:09 IoT Box
56:28 Odoo Studio Report Designer
1:07:24 Odoo sh