HERE'S WHAT THE NEWEST VERSION OF ODOO 14 OFFERS
Every year, Odoo releases upgrade and improvements to their software. This year too, they announced the new features and improvements offered by their latest upgrade, Odoo 14 version. Let's have a look at what this upgrade offers:
Website builder–

The pandemic this year has increased the need for a robust online presence for brands. Keeping this in mind, Odoo has revamped its website builder and created a holistic system that allows you to design custom websites that could previously only be done with software like HTML, CSS, and JS. With the new website builder, you can now easily compress pictures for better image optimization, utilize adaptive color illustrations according to your theme colors, and use shapes to bring your design to life with just a few clicks.
Integrated spreadsheet –

Now, you can create a spreadsheet within Odoo. With this new view, you can pick a spreadsheet template and prepare plans, projections & forecasts directly in Odoo. Eliminating the need to switch between various platforms, you can also have all your documents saved instantly in your ERP system.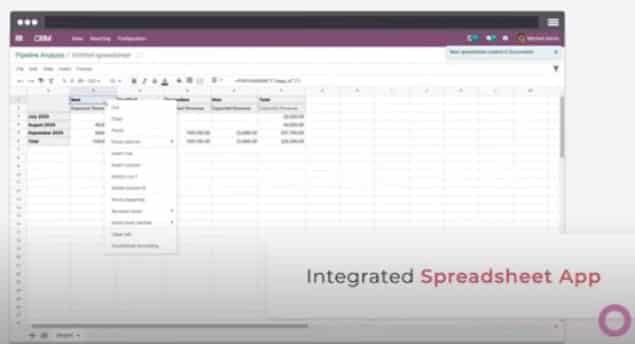 Data duplication and cleaning–

One of the common issues with several users using the same platform is duplicating data. Be it CRM, recruitment, contacts, or more, Odoo previously had a multi-step process to remove duplicate data. This involved exporting data, identifying duplicates, renaming, updating, and then finally filtering them for deletion. With Odoo 14, this costly and time-consuming process is now shorter. Your home screen will now have a data cleaning icon that can be used to quickly wipe out CRM copied leads or any other repeated data.
Odoo for Outlook–

Bridges your mailbox with Odoo database, and the calendars are also synchronized. This Outlook plugin automates the communication logging and helps track the team communications efficiently. It is also a priceless tool for traceable communication with customers or when employees switch organizations. You can utilize office 365 calendar synchronizing with this feature.
Inventory and stock management–

The new Odoo inventory helps check stock availability of the forecasted stock. Odoo 14 focused on efficient replenishment and manufacturing processes. You can also prioritize orders based on their urgency by easily accessing the raw material count required to fulfill an order. Adjusting quantities is also much more straightforward with convenient buttons that allow you to change quantities of products scanned through barcodes.
Online events–

As the world pivots to an increasingly virtual workspace, Odoo 14 now allows you to create events. Through these events, attendees can also select the talks they would like to add to their list of favorites and they can view precisely when and where the event is, and interact with other attendees in media rooms.
Record any activity–

Often, users want to share specific actions of Odoo and keep them on record for future references. To fulfill this need, Odoo 14, now lets you record your activities with the click of a button.
Documents-

With Odoo 14, you can now edit documents with ease. Let's say you have a single PDF with all your vendor bills for the month. You can easily mail it to your database and split it with PDF cutter. Its new version allows you to keep the pages you want and share them with your accounting team.

How we can help you upgrade 
If you are using the current or older version of Odoo. We can help you upgrade to this newest version seamlessly. To enjoy all these new features, get in touch with our team, and we can help you assess and upgrade your custom modules.

About us 
We work with customers across industries to implement and integrate Odoo for them. Bista have over a decade of experience in implementing Odoo, and we take pride in being an official Odoo Gold Partners. We are also proud winners of Odoo Best Partner (Americas) for 2015, 2016 & 2018. We use agile methodology to provide a consolidated service throughout the various phases of the development of an enterprise solution. Contact us to book a free demo.