Odoo Marketing Automation
Odoo Marketing Automation
Creating Campaign from Odoo Marketing Automation
Once you dive inside the marketing automation application in Odoo you will see the overview of all the campaigns. You can create the new campaign by triggering the CREATE button on the top.
Adding New Activity To The Campaign
Then you can name the campaign, select the target audience and create the activity for your campaign by clicking on the ADD NEW ACTIVITY button on the bottom.
You can see all the metrics of the activity on the campaign page itself. Such as the number of clicks for the specific activities, bounced, replied, sent, and much more. 
Adding Child Activity For The Parent Activity
You can also create a child activity depending on the response of its parent activity
For instance, if you want to send another email to all the prospects that have opened the previous email then just click on the open message icon which will again open the activity page where you can create new email activity for the prospect who has opened the email.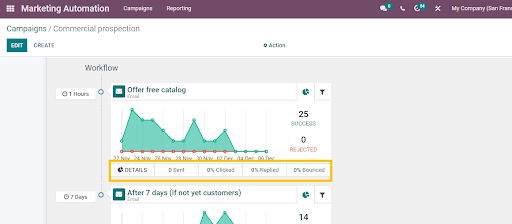 Likewise, you can create as many child activities for the main activity or another child activity for the former child activities as per the requirement.
Launching A Test For The Campaign
Before starting with the campaign you can test it beforehand by triggering the LAUNCH A TEST button on the top.
Link Tracking Of The Campaign
You can keep track of the prospects visiting your website with the advance link tracker option available in Odoo with this you have the activity of your prospect on your screen.
Why ChooseBista Solutions As Your Odoo Partner?
Awarded as the best Odoo Partner 2015, 2016, 2018, & 2021 in North America
2+ decades of Odoo Implementation Expertise
Locally present in US/ US based company
200+ Odoo developers ready to help
Vast industry expertise
300+ Odoo Implementations across various industries
To know more in detail Contact Us.