Bista Solutions has certified consultants worldwide on Odoo v12, v13, v14, v15.
July 3, 2019
Bista Solutions, an Odoo Gold Partner is proud to announce that it has certified Odoo consultants on Odoo Enterprise versions 15, 14, 13, and 12 across its global offices. These certifications reinforce Bista's leadership position and will be of great help in successfully implementing Odoo for their clients across the globe.
The Odoo certification is an hour-long exam with 80 questions that test the knowledge of Odoo consultants. The certification program helps the Odoo community and partners prove their skills. Odoo released version 12 in October 2018 at the Odoo Experience held in Belgium.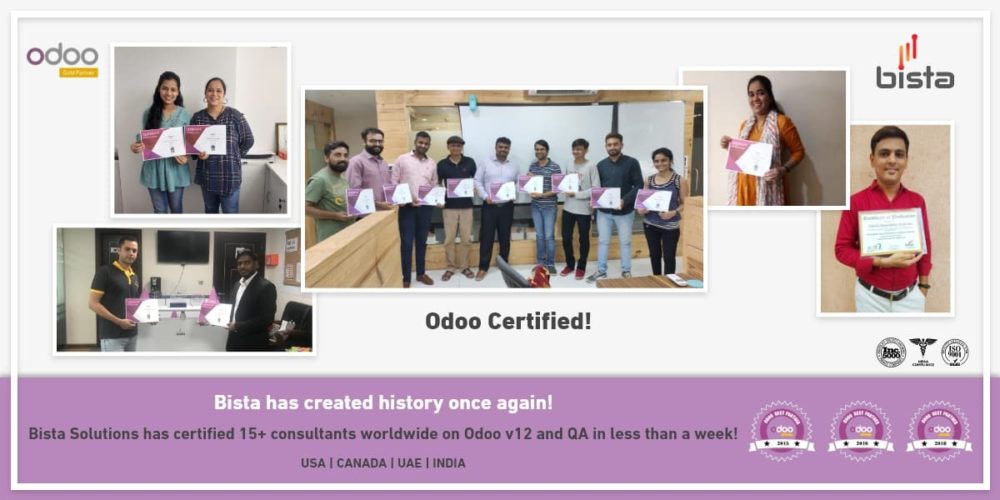 Bista Solutions is one of the most reputed and successful Odoo Gold Partner globally. They have implemented the software successfully for 250+ companies in the last decade. Bista Solutions is specialized in designing and implementing Odoo Solutions across Wholesale and Distribution, E-commerce, Healthcare, Manufacturing, Retail, Services, Schools, Ministries, Courts, Restaurants, Telecom and many more. Bista has 200+ professionals across the globe with 5 own offices in the USA, Canada, UAE and India. They also have a presence through their representative offices in Singapore, KSA and Kenya.
Bista Solutions has been awarded Odoo Best Partner in 2015, 2016 & 2018; and were also nominated in 2017. Bista has been recognized as one of the fastest-growing companies in the USA by the Inc 5000 and is also an ISO 9001: 2008 certified, HIPAA/PCI compliant company.