SiliconIndia has just published an article by Pradip Kulkarni, Chairman of Bista Solutions, titled "How Odoo is Revolutionizing the ERP Industry."
Pradip goes into the reasons for Odoo's success, including:
Odoo's customizability and innovation
Odoo's powerful ecosystem of developers and partners
Odoo's willingness to adapt to market trends
Pradip also discusses many of the new features in Odoo 12, such as IP-address lead generation, document management, and IoT, and how these are positioning Odoo ahead of its competition.
You can view the article here: How Odoo is Revolutionizing the ERP Industry – SiliconIndia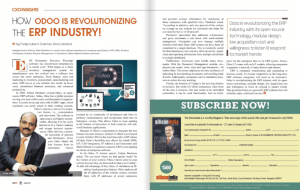 SiliconIndia is a print magazine that covers business and technology news in India. The magazine features articles from entrepreneurs, technologists, and accomplished CEOs. SiliconIndia was founded in 1997 and is currently based in Bangalore.
Bista Solutions is an ERP Implementation company that has worked with Odoo and other business software for over a decade. To learn more about our ERP solutions, click here. You can also reach us using our contact form or at +1 (404)-631-6219.