Here's an Odoo ERP implementation can help you reduce costs
In today's digital age, the only competency that can set businesses apart from each other is the ability to keep pace with rapid digitization. Seamless adoption of automation software has now become an imperative for businesses alike. However, one of the biggest challenges that comes in-hand with digitization is hefty costs. Most businesses and leaders today are either afraid to incur this cost or are still holding on to cost-effective legacy software. So how can leaders today implement solutions that help them save costs? The answer is simple – Odoo ERP implementation. Cost effective enterprise resource planning software like Odoo can drastically reduce costs as well as increase efficiency. Have a look at what the tool has to offer –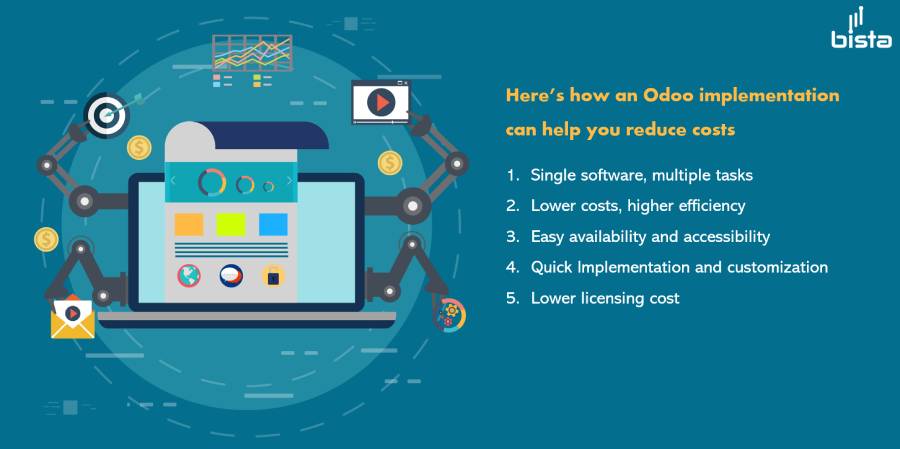 Single software, multiple tasks:
Most businesses use different applications to manage different tasks, departments, locations and verticals. For instance, a human resource software for employee management, a marketing tool for campaign measurement, a customer relationship management application for sales, etc. Multiple applications also come attached with multiple vendors and higher costs for each of these business verticals. However, with Odoo apps, you can get access all of this in a single screen, at the click of a button!
Lower costs, higher efficiency:
Compared to most ERP tools, Odoo ERP implementation can cost significantly lesser. In terms of offerings too, Odoo can streamline business processes, boost your sales, integrate all your services, build stunning websites, manage your finances and even grow your marketing reach.
Easy availability and accessibility:  
Web-based cloud ERP applications like Odoo are optimized for bringing the world of mobile computing together, enabling your employees to monitor and manage the business from anywhere on any device. For example, without any IT setup work, Odoo can be accessed from anytime, anywhere via any web browser, whether Chrome, Safari or Firefox, and any mobile device, whether iPads, iPhone, Androids or whichever device hits the market next.
Quick Implementation and customization:
Odoo ERP implementation is usually quick & less time consuming due to availability of variety of modules suitable for any organization. A scalable software, Odoo even allows you to become the developer and build custom applications, automate workflows, design reports, and even build a mobile app.
No Licensing Cost:
One of the most cost effective features of an Odoo ERP implementation is that it doesn't have license fee. Odoo community is a free basic plan that includes one app.
With all these benefits you can minimize efficiency and drastically minimize your costs. By adopting a customization and flexible business management solution like Odoo ERP, businesses and leaders across can also guard themselves against market fluctuations, reduce the risk of loss and manual errors.
With over a decade of experience in Odoo ERP, we understand how costs can play a huge role in your business. This is why we hand-hold you to create a cost-effective plan for your ERP needs.
Contact us to know more about how we can help you change your business processes for the better.