How Can Cloud ERP Improve Your Company's Day-To-Day Business Performance?
Benefits of Cloud Based ERP
Cloud based ERP solutions play a crucial role in a company's day-to-day operations once it is implemented. Besides reducing hardware data and storage costs and offering flexible solutions that accommodate growth and scaling, the most significant benefit of a cloud ERP is accessibility to real-time information and a streamlined solution. With a cloud based ERP solution, one has access to real-time data across multiple platforms, from desktop to mobile devices.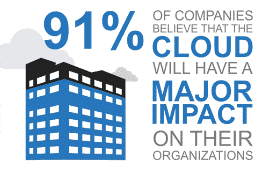 Cloud based ERP solutions maintain an alignment between departments which reduces the issue of missing information, duplication, or other errors. This helps us to generate more accurate and complete information enabling an organization to make more optimal and transparent decision making. It also allows the option of integrating any other application with the ERP platform. Which in turn allows for easier access to complementary/supporting information and decision making. Integration of all departments and functions of a company into a single system that has the multi-functional capacity of streamlining and backing up the processes into a cloud for extreme security and anywhere / anytime accessibility undoubtedly enhances the performance of a company.
Streamlined processes:
Various departments in a company tend to maintain their own data on a number of software. Problems arise when data from one department is to be transferred to another, a tedious process when each department maintains data in different forms, formats or on different software.
Cloud based ERPs are collaborative and integrative with other systems. They not only help integrate software and data. But also link different processes between departments so that communication between them is fluid. For example, one of its greatest strengths is streamlining the operation through which your business takes customer orders and processes them into invoices and revenues. This is the order fulfillment process, which can either be long and complicated – or rapid and efficient. When one department finishes with an order. it is automatically routed via your ERP software and moved along to the next department.
Easy to handle:
Cloud based ERP works on Software as a Service (SaaS) which allows users to access ERP software using the Internet.
Cloud based ERP has low cost as the resources needed to install, operate, maintain and handled are typically lower rather than purchasing solutions that are hosted "on-premise".
Cloud based ERP also gives companies access to their business-critical applications at any time from any location.
Centralized and collaborative:
Instead of having a company's front and back-office applications in separate systems. Using one cloud platform allows the apps to communicate with each other and share a central database. This reduces data loss.
On the other hand. "on-premise" systems are installed using high setup costs and time by a local IT team. The cost of setup must also include maintenance of hardware, server rooms, and more.
When it's time to upgrade the ERP system. it must be deployed again on the system and the associated users, computers and reimplement various customizations and integrations that were installed on an earlier software. Basically, duplicating these efforts and expenses every so often.
A cloud based ERP provider hosts and maintains all of the IT infrastructure. Ensures the system is always running, and that the data is secure.
Cloud based ERP automatically adjusts and dynamically provisions additional resources to handle the ERP deployments usually takes 3-6 months compared to the 12 months that it typically takes to implement an on-premise solution.
By moving to a cloud based ERP solution. Business processes can improve productivity, decrease costs and increase efficiency on a effective scale.
Please feel free to reach us at sales@bistasolutions.com for any queries on  Cloud ERP. Also, you can contact us by filling the contact us form.