How Meat Processing ERP Solution Can Transform Your Meat Processing Business
The movement toward high-quality, fresh and sustainable produced food products is not only paving the way for aware customers, but also increasing the pressure on food processing companies, especially meat companies. As this increases, leaders of meat processing businesses now need to ensure and guarantee quality assurance. It also means that meat processors need extended visibility into the sourcing of each product and the ability to predict spoilage. Meat processing ERP solutions like NetSuite are uniquely designed to address the complex challenges facing meat producers and processors with a single solution for all key business operations.
As the leading cloud business system supporting CRM, supply chain, manufacturing resource planning, order fulfillment and financials. Here's what NetSuite has to offer as the go-to meat processing ERP solution.
Benefits of Meat Processing ERP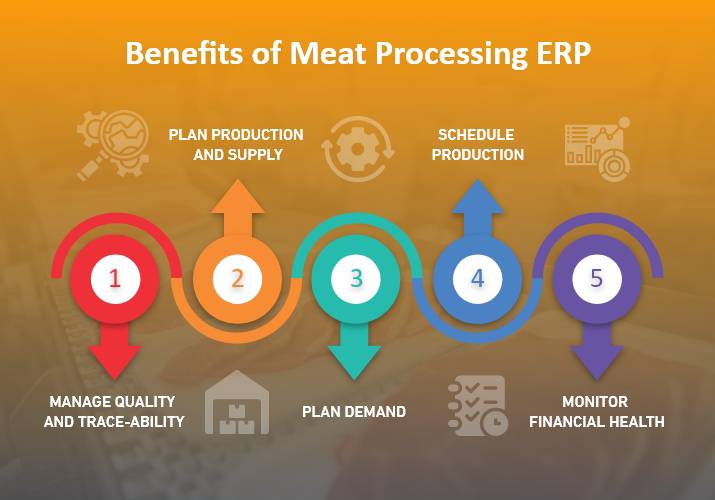 Manage Quality and Trace-ability
Meat processing companies face major hurdles when it comes to quality maintenance and trace-ability. Meat processing ERP solution empowers producers to trace production from ingredient up till the finished product. More so, NetSuite also allows you to automate processes like meat inspection and product compliance testing for a holistic view of quality while maintaining operational efficiency.

Plan Production and Supply
Food and meat manufacturers are under immense cost pressures to produce and procure the right products at the right time. By providing real-time visibility of inventory and sales. NetSuite meat processing ERP enables accurate production and purchase plans by giving real-time information. Features like these combined with NetSuite's ability to manage complex supply chains—including co-packers and 3PLs—build a robust a comprehensive production and meat processing supply chain management tool.
Plan Demand
In an industry where supply perishability is part of the equation, accurate demand planning is crucial to meet customer expectations & drive operational efficiency. NetSuite's demand planning feature factors in a wide variety of information in the demand planning process. Including historical sales, new opportunities and quotes, sales orders, seasonality and trends—to create the most comprehensive, accurate report of demand.
Schedule Production
Meat processors not only manage limited and costly resources when scheduling production, also consider a variety of product attributes and requirements that largely impact production efficiency, material yield and meat safety. Food allergens, organic sourcing, kosher requirements, and GMO/Non-GMO attributes are all critical considerations when scheduling production lines. NetSuite meat production ERP's finite scheduling enables scheduled production and reduce changeover times with production costs.
Monitor Financial Health
In an increasingly competitive marketplace, leaders of meat processing companies need a holistic and timely view of business performance. Meat processing ERP solutions like NetSuite provide real-time visibility of financial performance through dashboards, preconfigured reports, key performance indicators and a powerful end-user reporting tool catered specifically to the food and beverage industry like cost of goods sold (COGS) tracking, vendor performance, and managing promotions and rebates with deduction management.
With the help of NetSuite, meat processing businesses can easily automate processes, plan demand & supply, & drive efficiencies. Freeing their time up to focus on business decision-making and enhancing product offerings.
Bista Solutions is an ERP consulting company with more than a decade of industry expertise in NetSuite & Odoo implementation across industries. One of our expertise lies in implementing meat processing ERP solutions and tailoring them to suit the needs of companies.
Contact us to learn more about how we can help. You can also forward your inquiry to sales@bistasolutions.com.