Step by step guide to Odoo CRM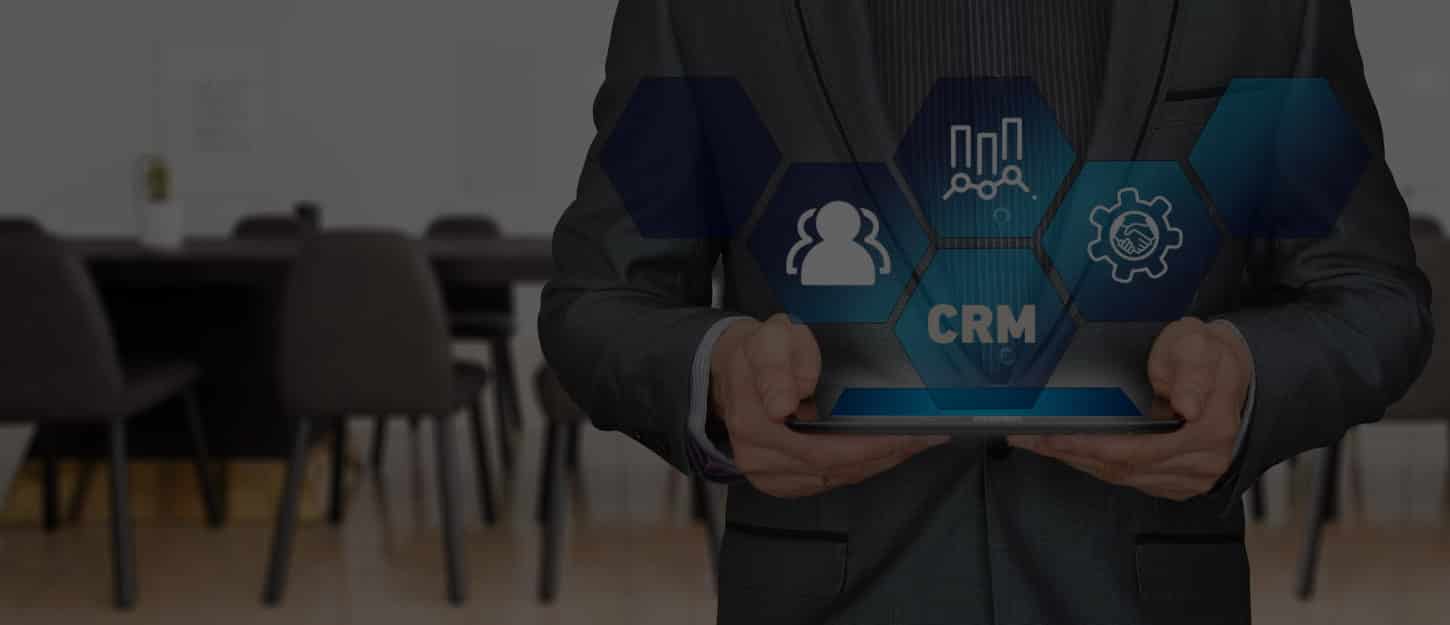 Customer Relationship Management(CRM) is all about gathering leads. And it goes without saying that CRM is a significant process for any custom setups. Odoo CRM Module provides the most efficient and reliable CRM services that will assist you in organizing activities, help track your leads, and get all the information you need for smart decision making.
In Odoo CRM Module you can prioritize your activities with a fully automated task. Just focus on your leads, drag and drop the opportunities at every stage of the pipeline. You can edit your leads at any stage using the small settings icon on your opportunities.  You can also schedule a meeting and create a custom alert for that meeting. Odoo CRM module allows you to evaluate your current meeting and organize your next activity correspondingly.
Editing Stage
When you select the editing stage,  It will open the wizard where you can perform the required modification. In the wizard, you will see the requirement area where you can add a small description of the stage. This will later appear as a tooltip whenever you hover over that stage. This feature works as a guide for the new salesperson or employee on your team.
You can differentiate the past, present and future activities with Odoo CRM module. There is a bar at the top of every stage of your pipeline which allows you to filter opportunities based on your scheduled activities. Now, if that bar is red, then there was an activity scheduled in the past which you missed out on. If that bar is yellow, it indicates that you have an activity scheduled for the current date. If the bar is green, then you have an activity scheduled for the future. If that bar is blank, then there are no activities scheduled for that stage.
Create Opportunity
With the Create button on the top left corner of your screen, you can create opportunities manually. Like other Odoo Apps, CRM provides various Interface for you, such as Kanban view, List view, Calendar view, Pivot tables, Graphs, Cohort and Dashboard view
My Pipeline
With the Sales menu, you can view all your pipelines by selecting the My pipeline option. You can also view all your quotes with the My Quotations option. And if you have multiple sales channels, you can access it in your Team Pipelines, as well as keep track of your customers with the Customers menu. In the Configuration tab, you will come across Sales Team options where you can set up your sales team.

Since Odoo CRM module is fully integrated with the Odoo Website and Contact Form, you can gather all your leads from the contact form section. Once a lead completes the contact form, the salesperson can access the submission from the Lead section in CRM. Now the salesperson can evaluate the submission to determine if the lead is qualified to be an opportunity. All that the salesperson needs to do is select the Convert To Opportunity button. Once it is selected.
Odoo CRM module will open another wizard, where you can assign an opportunity to a specific salesperson or a sales team. You can apply a conversion action such as creating a new opportunity by selecting convert to opportunity. or you can merge the opportunity with the existing opportunity by selecting Merge with existing opportunities. This feature comes in handy when avoiding duplicate opportunities. In the instance where another salesperson from the team has already reached out to the opportunity. You can take the lead as your new customer by selecting Create a new customer. If you have already worked with that lead in past you can select Link to an existing customer. If you don't want that lead to become a customer then simply select Do not link to a customer.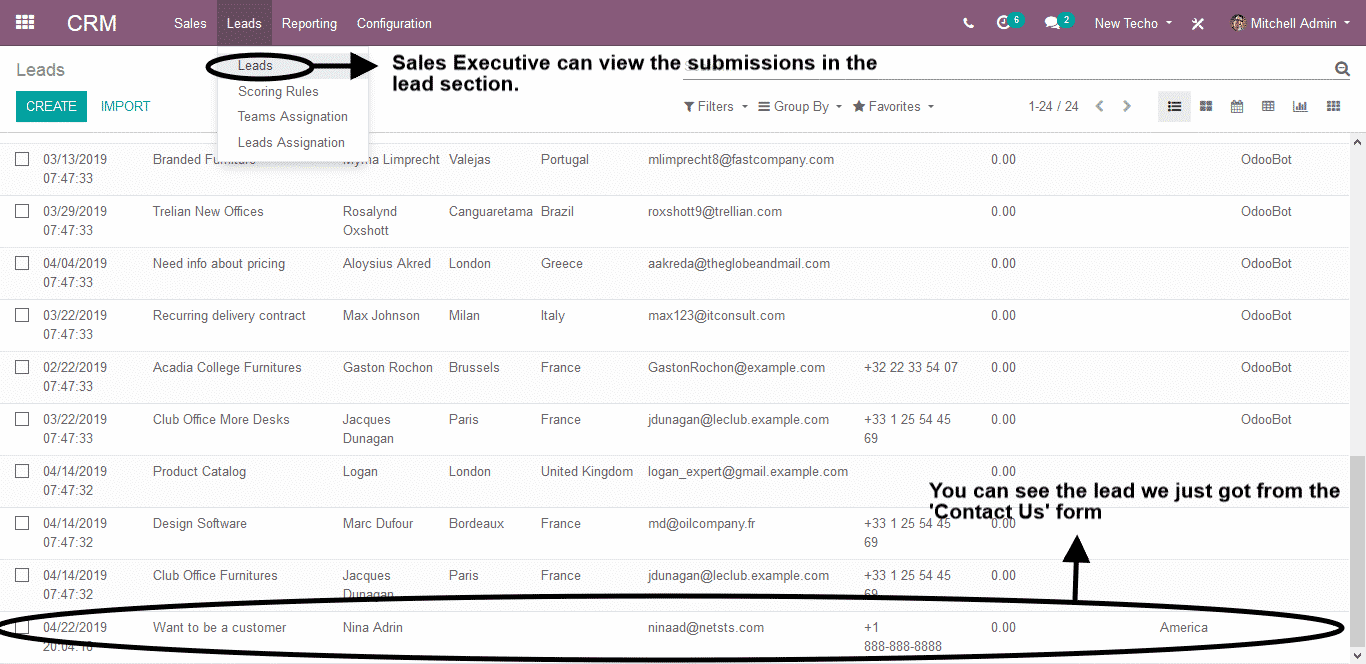 Don't worry. if you don't have your website hosted by Odoo website builder, you can still get this smart feature. All you have to do is embed your website with Odoo CRM via iframe.
Once you convert your lead into an opportunity, your form view gets updated. Now you have options like New Quotation, Mark Won, Mark Lost. You can even see all the stages and smart tabs of Meetings and Quotations. Here you can update the revenue and prioritize the opportunity at your convenience. You cannot access the converted opportunity in the lead section since it is an opportunity, so it will be transferred to the My Pipeline section.

You can also gather leads through the live chat. If a user wants to be a lead they can share their info in the live chat by using a shortcut command /lead "your message".  A lead will be created from the conversation for the sales team. The salesperson can have access to the conversation in the internal notes and can convert the lead into an opportunity as discussed above.  After getting converted to an opportunity the lead will get transferred from the lead section to the My Pipeline section.
When it comes to leads it won't be limited to one or two, especially if you are running Mail or Marketing campaigns. Instead of manually creating the leads you can import them together in the lead section by simply select Load File button on the top. This will give you an option to load a spreadsheet or CSV file. Once the file is loaded, you will be able to see your leads. With the test import button, Odoo will evaluate all the leads to determine which are valid. By clicking on the import button, all the leads will be imported automatically. Now you can assess the leads and convert them into opportunities
Odoo CRM module is integrated with a Lead Scoring module. where you can rank the lead based on the protocols that are qualified to be an opportunity. Under the Lead menu, you will have scoring rules where you can modify and add protocol as per your requirement to rank your lead. After that, all your leads will be automatically scanned every hour and will be assigned a score according to the ranking in your scoring rules.
Just a single click on an opportunity, and you can access all the particulars of that opportunity. Within your opportunities, you can send an email to the clients and all the actions performed on the opportunities can be tracked in the chatterbox.
If an opportunity is lost, Odoo CRM can help by analyzing the reason behind lost opportunities. You can amplify your sales efficiency while keeping track of your monthly targets. This will help you analyze individual and team performance so that you can appropriately schedule your next activity.
You can take a break from the hectic process of recording data manually on the system when communicating with the client with Odoo CRM. Odoo CRM emails are automatically integrated with VOIP integration. so you can make calls directly from the opportunity tracker and can synchronize your agenda with Odoo Calendar. Odoo CRM also supports Google integration which enables you to sync all your contacts and keeps it secure, saving a large amount of your time.
With Odoo Reporting function you can easily create your own real-time report while scrolling down to any data points that you'd like to compare. To better analyzing your pipeline, you can even create a pivot table. Odoo CRM module also permits you to create your custom dashboard according to your business and organizational requirements. With Odoo's email marketing feature you can send emails to multiple leads.
You can create your own campaign targeting your leads in Odoo CRM module. So you can keep track of the leads, as well as anyone who may have seen the campaign and might be interested in it.
The Odoo CRM module is fully integrated with other Odoo Apps like Sales, Mass Mailing and much more. Features of Odoo CRM APP are very vast.
There are several instances when the default Odoo CRM app or module does not fulfill the requirements of a company. In such situations, an experienced Odoo implementation partner like Bista Solutions can customize the modules as per your business requirement.
If you need any assistance or customization for your Odoo Apps you can schedule a demo with us using this Contact Form or emailing us at sales@bistasolutions.com