Odoo Vendor Lead Time Calculation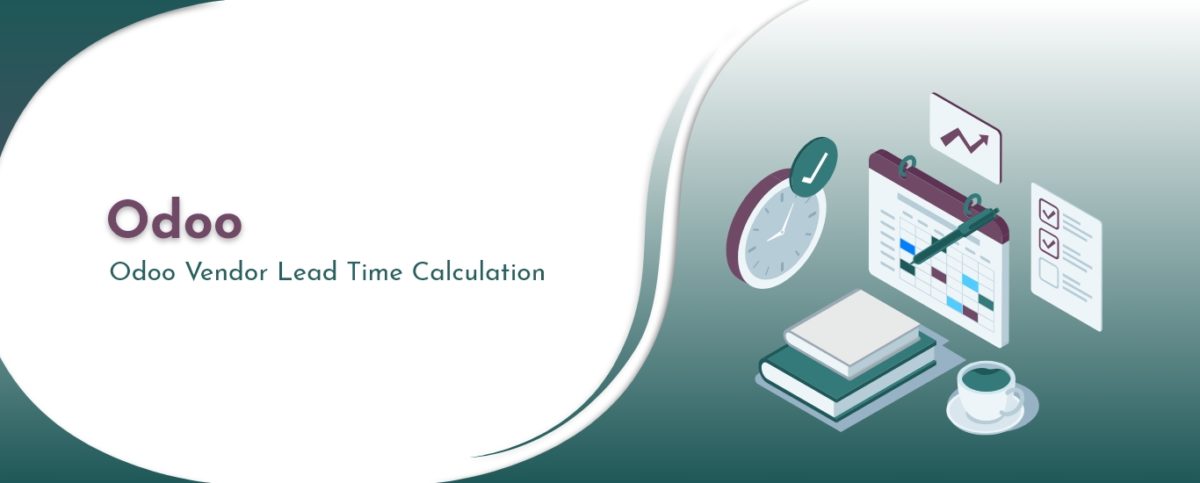 Odoo Vendor Lead Time Calculation
As a manufacturing or distribution company, the reliability of vendors has a good impact on your operations, production & inventory. It is important to have an exact calculation of vendor lead time, so Odoo has come up with a module Odoo Vendor Lead Time Calculation. With Odoo Vendor Lead Time Calculation module you can cut inventory costs & increase sales from reduced out of stock. It also helps you to understand which vendors are costing money due to inconsistent or poor lead time performance and work with them to improve it.
This module helps to Calculate Lead Time for the Vendor. It will calculate the Vendor Lead Automatically as per the past Historical transaction Data. 
As per below image user can configure PO Lead Horizon months and Sale Lead Horizon months as per the requirement.
It is showing that PO lead Horizon to calculate the historical data of 12 months.
Configuration of Lead Calculation Horizon
User need to go to the Inventory App then click on the Lead Calculation Horizon menu. After that click on the Create button.
When the user click on the "Create" button then user can see this type of form view of Lead Calculation Horizon.
In this form view users need to configure Calculation Horizon in Month as per the requirement.
After that users need to select product or product categories in the "Calculate By" field. Users can see two different options. (1) Product and (2) Product Category while clicking on this field.
If user select "Product" in Calculate By field then user can have a option to select multiple products
If the user Select  "Product Category" in the Calculate By field then the user can  have a option select multiple product categories.
After all these configuration user need to select Vendor. In the Vendor field user can select multiple vendors as per the requirement.
After selecting the vendor, the user needs to click on the "Calculate Lead Time" button.
When a user clicks on this button then Item Lines will be displayed as per the configuration.
–  In the Product column user can see all the products which are selected in the products field. 
– In the Vendor column user can see all the vendors which are selected in the Vendor field.
– Current Lead Time column showing current lead days of the products. It will be calculated from the Product Master.
– Suggested Lead Time column will be calculated as per the Past historical transaction data.
– Apply? In this column all the checkboxes will be true as by default. User can make it false as per the requirement.
After calculating lead time user need to click on the Apply Lead Time button.
When a user clicks on the "Apply Lead Time" button then Suggested Lead Time will be applied to all the products and it will be updated in Product Master. Lead Calculation Horizon's state will be changed as "Done".
Keeping The Transaction History of Lead Calculation:
When user make changes manually in the "Suggested Lead Time" column and "Apply?" Checkboxes then log will be updated in the chatter.
Report Of Products to Vendor:
If the user needs to show a supplier lead time report then the user needs to go to the "Report" Menu then click on the "Supplier Lead Time Report" submenu.
As below image User can see the Supplier Lead Time Report.
If suggested Lead Time is ZERO then it will not update and keep the current one only.
Discarding in the Good Receipt Some record with Reason:
If a user wants to discard any receipt from the Supplier Lead Time Report then the user can use this feature. To Enable this feature user need to open any Done receipt from the Purchase Order or from the Inventory App > Operation > Transfers then go to the Additional Info Tab after that Enable "Disregard In Lead Calculation" checkbox then User can give the reason in the "Disregard Reason" field for avoid this Transfer in Lead calculation.
Vendor disregarding for Lead Calculation:
This Feature is use for not include those vendor  in Supplier Lead Time Report .Configuration is to disregard any Vendor from the Supplier Lead Time Report to open any Vendor from for that  go to  Purchase > Orders > Vendors  you see the field  "Disregard In Lead Calculation" checkbox as shown below user can Enable that feature.
Why Choose Bista Solutions as your Odoo Partner?
Bista Solutions is the best Odoo Gold Partner & recently won best Odoo Partner 2021 award across North America. This is our 4th award as best Odoo partner.
We have more than 2 decades of ERP implementation expertise
We have certified Odoo ERP consultants
200+ Odoo developers available globally
Present in more than 4 countries, Locally present in4 different US cities like CA, GA, TX, NV.
Looking for Odoo ERP implementation or want to know more about Odoo, Contact us for free consultation.