Acumatica Distribution Edition
Manage Sales Orders, Track Inventory, Improve Purchasing, Automate Warehouse Processes, and Provide Customer Support from Anywhere
Determine real-time profitability by warehouse, product line, location, or business unit, while reducing costs across your entire supply and distribution chain. Acumatica Distribution Edition includes Sales Order Management, Advanced Inventory, Requisition Management, Purchase Order Management, and Advanced Financials. It is fully integrated with Warehouse Management (WMS), CRM, Manufacturing, Field Service, and Project Management for visibility across your entire organization.
IMPROVE CUSTOMER SATISFACTION, MINIMIZE COST
Reduce order times. Eliminate delays through automated sales order processing and shipping order generation. Set rules to manage multiple warehouses, returns, credit limits, drop shipments, and
Know where your business is. Ensure a steady supply of materials by optimizing and automating your purchasing
Employ multiple valuation methods. Value your inventory using standard cost, moving average, FIFO, and item-specific methods. Select a different valuation method for each inventory item. Make direct adjustments to costs and physical inventory counts using reports and inquiry
Integrate with CRM. Convert CRM opportunities to sales orders without re-entering pricing and discount information. Customer service can locate orders to verify shipping and delivery status
WHY CHOOSE ACUMATICA DISTRIBUTION?
MANAGE INVENTORY
Manage processes with real-time visibility of available inventory, inventory in transit, reorder quantities, and inventory costs
Minimize inventory and costs to manage your distribution process more efficiently
STREAMLINE SALES ORDERS
Reduce order times and minimize costs by optimizing the way you quote, enter, and fill orders
Set rules to manage complexities such as multiple warehouses, returns, credit limits, and drop shipments
ENHANCE PURCHASING
Minimize costs and ensure a steady supply of materials
Keep track of raw material, stock availability & product expiration
Optimize and automate your purchasing process
KNOW YOUR TRUE COSTS
Determine real-time profitability by warehouse, product line, location, or business unit
Use real-time information to control costs across the entire supply and distribution chain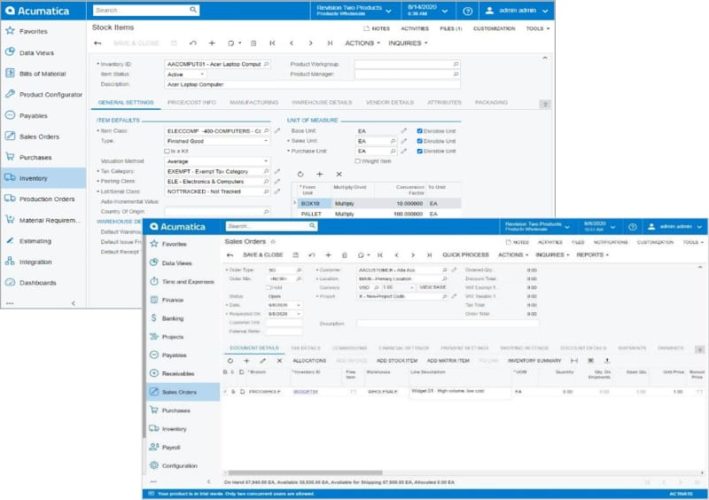 ACUMATICA DISTRIBUTION MANAGEMENT FEATURES AND CAPABILITIES